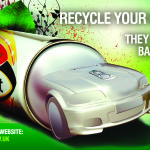 This week Apple were reported as the largest business in the world worth over £565 billion.
Apple is renowned for it's creative approach to product development and marketing.
Their chief designer (an English Chap) Jonathan Ive, has been given massive license to continue
to create brilliant and innovative products like the iPhone and the iPad.
Their advertising campaigns are fashion orientated, fun and funky. So you would think with
this beacon of creative success would encourage more businesses to stimulate their growth with wildly creative
ideas and strategies, that they would encourage and reward creative thinking,
that they would treasure consultancy's where creativity abounded…but apparently not.
More likely the marketing manager is so pressured by the board of directors they are scared stiff of using any
creative approach which doesn't mirror those of their competitors.
So much so, that more often than not they become obsessed with mentioning their competition in their own ad's!
Too many campaigns rely on repetition to get the message across because the creative approach is simply dull, dull, dull!
So why not buck the trend and  be inspired by Apple, lead from the front, credit your target audience with some intelligence
and feed them stimulating ideas and then let them make the purchasing decision for themselves.