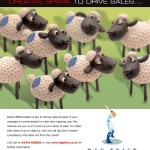 An in house marketing manager or creative director could cost you up to 30-50k a year
So why not simply hire the resources only when you need them?

Big Stick Marketing Consultancy Package Offer

In the present climate, shelling out for a full time accomplished marketer to drive sales is somewhat of a luxury.
And then, what skills do you hire?  A creative to do the marketing work? A marketer to plan the strategy?
A copywriter or social net worker to promote the business?

The Big Stick Consultancy package offer is a potential easy option. An opportunity to outsource the function(s) you need,
for one day a week or several days a month, as and when you need it. So you have the skills on hand without a permanent overhead.
Big Stick's award winning Creative Director can help formulate your strategy, write it, deliver the creative spark and generate it's
production into the marketing vehicles you need to develop a successful campaign.
Be it online or offline strategy, Big Stick can provide creative solutions and provide hands-on consultancy
to help build your brand with the right USP and benefit messages.
Sometimes using an outsider as sounding board helps give you the perspective and confidence to realise your instincts were correct!
So if you aren't ready to invest in a full time marketing/creative person, talk to Big Stick about a bespoke consultancy package designed to suit your needs now.