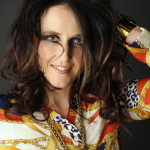 A photo feature for 'Berkhamsted Living Magazine' required Big Stick photography to click away with Editor 'Claire' and make her look 10 years younger.
First she had botox treatment, teeth whitening, make-up and hair styling. The result was a shot of the modest Claire looking stunning. (*judge for yourself-see the before and after shots below)
It makes it all the more enjoyable when the subject is an 'ordinary' person and you see them bloom under the lights as they become more relaxed with camera and photographer. The unpredictability also makes it exciting, with a professional model you know exactly what you will get and to be fair you generally get a good result pretty quickly.
With an 'untested' model it is all down to the subject feeling confident in the surroundings and trusting the photographer won't make them feel foolish or embarrassed. Consequently the shoot takes much longer but the results are often startling and you realise not only that the subject has latent model potential but that they have a naiveté which lends the picture a unique charm-
a potential models first time under the lights can be an empowering experience for the 'model' and not having to suffer the diva moments of a professional helps the photographer feel 10 years younger too!