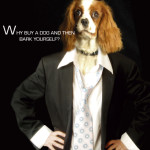 If you invited a professional plasterer into your house would you then proceed to tell him how to hold his trowel? How to use a smooth motion
to ensure no smears, how to fashion his mixture to the perfect consistency…no?
Then why do so many companies hire a creative consultancy to come up with strategies and ideas and then tell them exactly the idea they
want to see and ignore any thoughts which stray from this prescribed vision?
Talk about buying a dog and barking yourself!
Of course I understand the client wants the best result for the brand and lets face it -it is they who has to face the music directly if the campaign fails.
I even understand that there are some irresponsible creatives out there, who looking to build their portfolio sometimes conveniently ignore the brief!
However, to get the best results you have to trust your chosen creative partner, believe me they will appreciate it and feel doubly responsible
for delivering a good creative result . Creatives also do like to be inspired by the client's product vision but NOT to be tethered to a preconceived idea,
which can be stifling and will not deliver the bold innovative campaign that will help sales explode.  It will instead only serve to stifle creativity and exasperate
both the client and the creative team.
Like all of us, if we feel ownership for the creative direction, we commit to it for all we are worth and that's how great ideas are born!
So work in a team with your creative, give them the freedom of a tight brief and then sit back and prepare to be startled…woof. woof!